Agent Office
RealtyJuggler
Type:
Windows Application
Cloud-Based
Technical Support:
$295/year
FREE
Operating Systems:
Microsoft Windows
Microsoft Windows, Mac OS X, Android, iOS
Active Development:
No. Nothing new in many years.
Multi-User:
Limited and difficult to configure
Yes - Internet-Based. No software installation required.
Test-Drive RealtyJuggler for
90 days FREE!
Are you ready to get organized?
Signing up for a free trial requires no credit card. There is never any charge for a free trial.
Executive Summary - Agent Office Alternative
AgentOffice 10, (formerly On-Line Agent, Agent 2000, FNIS Real Estate, RE/MAX Agent 2000, Executive Agent, Century 21 Power Pack, & Keller Williams Online Agent) has been around since 1992. The publisher is now Emphasys Software, although it was formerly owned by FNRES (Fidelity National Real Estate Solutions) / RealtyStar.
RealtyJuggler, offers all the features of AgentOffice including contact management, listings management and scheduling. RealtyJuggler also has additional features such as real estate calculators, tracking of showings, promotions and expenses. Since RealtyJuggler is internet-based, it also has many modern capabilities such as Bulk and Drip eMail sequences.
Agent Office 10 is an old-school double-clickable PC program that must be installed on a Microsoft Windows computer. There is no Mac version. Upgrades must be installed by hand. Similarly, data backups are the responsibility of the user and are not automatic. The product has been upgraded infrequently.
The key difference between RealtyJuggler and Agent Office is that RealtyJuggler is internet-based. This means that RealtyJuggler can be accessed from any Internet equipped computer. There is no software to install. Upgrades, redundant backups, and technical support, are included for free. RealtyJuggler is under constant development with improvements made on a continual basis based upon customer feedback. Here's a link to the press-release history which shows the constant refinement of RealtyJuggler over the years.
An important factor to consider is the availability of technical support. Since both products offer a free trial we recommend trying them both. Spend some time with the products, and give the technical support staff a call to see if they are helpful and friendly. After all, the software is of no use if technical support is lacking.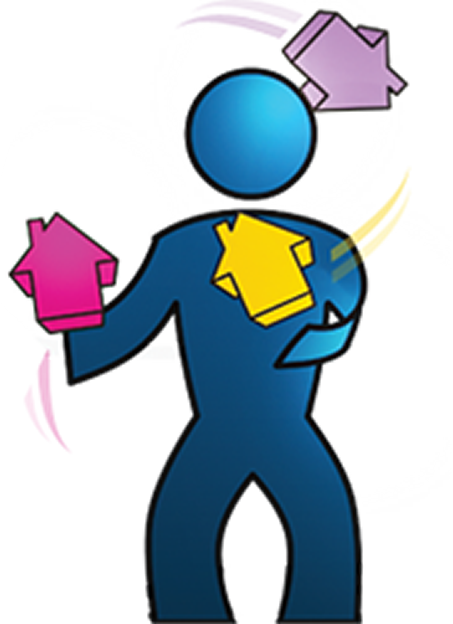 About RealtyJuggler Real Estate Software
Are you wondering if RealtyJuggler has enough features for you? RealtyJuggler includes a comprehensive letter library, over one hundred flyers, and can synchronize with both Google Contacts and Calendar.
Most importantly, you can schedule follow-up calls and build a daily call list to incubate and convert leads into deals.
Learn More »