Free Trial:
30-Day
90-Day
Price:
Starter: $250-1,188/year
Pro-Plus: $499-1,668/year
Elite: $999-2,628/year
Phone Technical Support:
No
Yes
1-on-1 Training:
Elite Only
Yes
Valet Import:
Elite Only - limits on notes
Transaction Management:
Limited
Complete
User Interface:
Busy & Complex
Streamlined & Simple
Google Sync Contacts & Calendar:
Yes - does not sync notes
Can use Gmail/Yahoo/Hotmail/AOL as your Email address:
No
Yes
Letter Library:
Yes - Handful
Track Commissions:
Limited
Real-Estate Calculators:
No
SMS Texting & Call Capture:
Pro-Plus Only
Custom Letterhead Design:
No
Valet Import Assistance:
Elite Only
One-on-One Training:
Elite Only
Yes - Complimentary
Phone Support:
Limited
Yes - Complimentary
Test-Drive RealtyJuggler for
90 days FREE!
Are you ready to get organized?
Signing up for a free trial requires no credit card. There is never any charge for a free trial.
Executive Summary - LionDesk Alternative
The primary difference between RealtyJuggler and Liondesk is in pricing. RealtyJuggler membership is a simple $179 / year. Liondesk is sold with tiered pricing with live human technical support only available for those who pay for the most expensive tier. The most popular Liondesk package is $999 / year, which is 6x more expensive than RealtyJuggler!
Both products contain similar core Real Estate CRM features. However, RealtyJuggler is far more capable in tracking your deals, income, showing feedback, and expenses.
Another difference is with the user interface. LionDesk's user interface is cluttered and complex. The RealtyJuggler user interface is clean and simple. Tasks, like printing labels or sending a bulk Email are more easily acomplished within RealtyJuggler.
In May 2021, Lone Wolf Software acquired LionDesk. According to their press release this is part of Lone Wolf's stratagy of creating a full suite of integrated products. RealOrganized, Inc. has owned and operated RealtyJuggler since its inception in 2004. The entire focus of RealtyJuggler staff is the RealtyJuggler Real Estate CRM. This independence means that RealtyJuggler members can rest assured that there are no conflicts of interest or loss of focus.
One last difference between LionDesk and RealtyJuggler is that RealtyJuggler offers fantastic technical support. Included with your trial and membership is complimentary one-on-one training, free set-up of your account including letterhead installation, and assistance getting your leads loaded into the system. RealtyJuggler trained support staff will answer the phone and help you immediately. Excellent technical support is critical to making any system work and is often overlooked when making a purchase decision.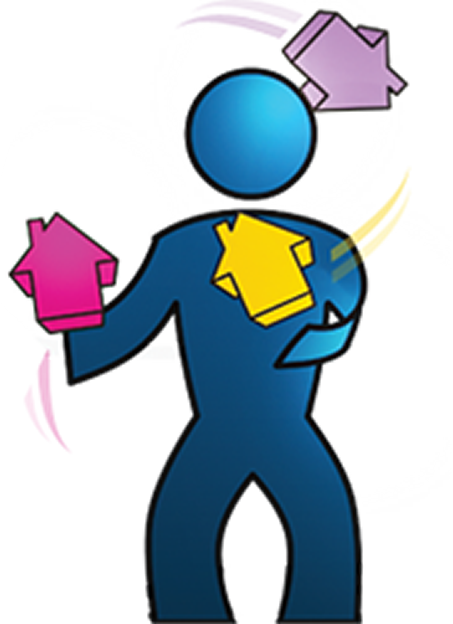 About RealtyJuggler Real Estate Software
Are you wondering if RealtyJuggler Realtor Software has enough features for you? RealtyJuggler includes a comprehensive letter library, over one hundred flyers, and can synchronize with both Google Contacts and Calendar.
Most importantly, you can schedule follow-up calls and build a daily call list to incubate and convert leads into deals.
Learn More »