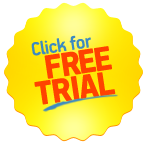 RealtyJuggler Real Estate Flyers
RealtyJuggler includes 101 stunning realtor flyer template designs for your real estate flyer needs. These Realtor Flyers are editable PDF forms. Download them to your computer and open using Adobe's free
Adobe Reader
software. You can print your flyers using your own printer, take them to a print shop, or even send them as embedded eMail images that are displayed immediately within the eMail itself. The result is a stunning flyer in minutes.
The best thing about
RealtyJuggler Realtor Flyers
is how easy they are to create. Select from one of our design templates, download, and start filling in the blanks. There is no need to worry about page layout, font selection, scaling of photos or any of the other things that can slow you down. There's even a spell checker built in. Print your flyer at any time. When you are done, save your flyer for later editing or to print additional flyers. Put the real estate flyer on your web site to draw extra traffic or send to a list of people by eMail.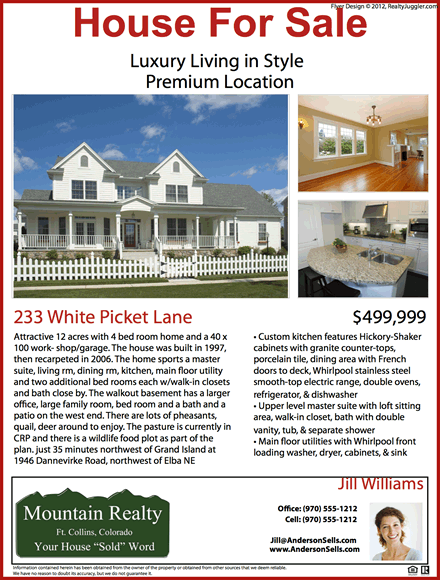 Click on the sample flyer image to the left to download a fully functional sample flyer. This flyer can be edited, printed and saved with no restrictions. You are free to use this flyer as our gift to you.
This flyer is one of 101 unique flyer designs that are available in RealtyJuggler.
Detailed instructions on how to edit flyers are available in our
Flyer Tutorial Document
.
Flyer designs cover the full range of designs a busy REALTOR® or real-estate professional might require. There are even flyers suitable for commercial listings, open houses, multiple listings as well and co-listings.
Just pick a design, fill in the blanks, and you are done!
View All 101 Flyer Designs

►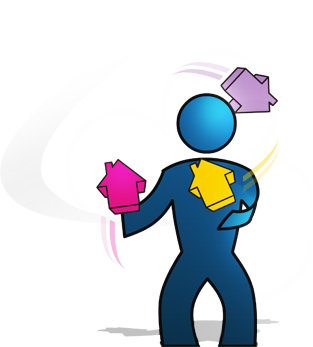 These flyers are part of the RealtyJuggler system. RealtyJuggler is a Realtor's virtual Swiss Army Knife. Track Deals, Prospects, Open Houses, Lockboxes, Expenses, Calculate Commissions, Print Mailing Labels, do Drip mail, Bulk Email, and much more. Includes optional Microsoft Outlook synchronization capability as well as the ability to sync with many SmartPhones and PDA's. RealtyJuggler (including the flyers) works equally well on Macintosh as well as Microsoft Windows operating systems.
RealtyJuggler includes over
350 Real Estate letters
covering a variety of topics including prospecting short-sales, FSBO's, Expired's. The letters are arranged as time-release sequences for easy delivery to a prospect over time.
Learn More About RealtyJuggler

►
RealtyJuggler is available as a 90-day free trial. This is literally a free trial with no cost to you. No credit card is required and you are never billed for a free trial. It takes just seconds to sign up.
The free trial does have one limitation - you can edit, print and use the sample flyer as you wish, but your free trial will not allow you access to the other 100 flyer designs. Once you purchase a Membership to RealtyJuggler, you will then have the ability to access all 101 flyer designs.
Sign-Up For Free Trial

►